Athlete of the Month
BHARATHI KONDUR : ASF South Athlete of the Month – NOVEMBER 2017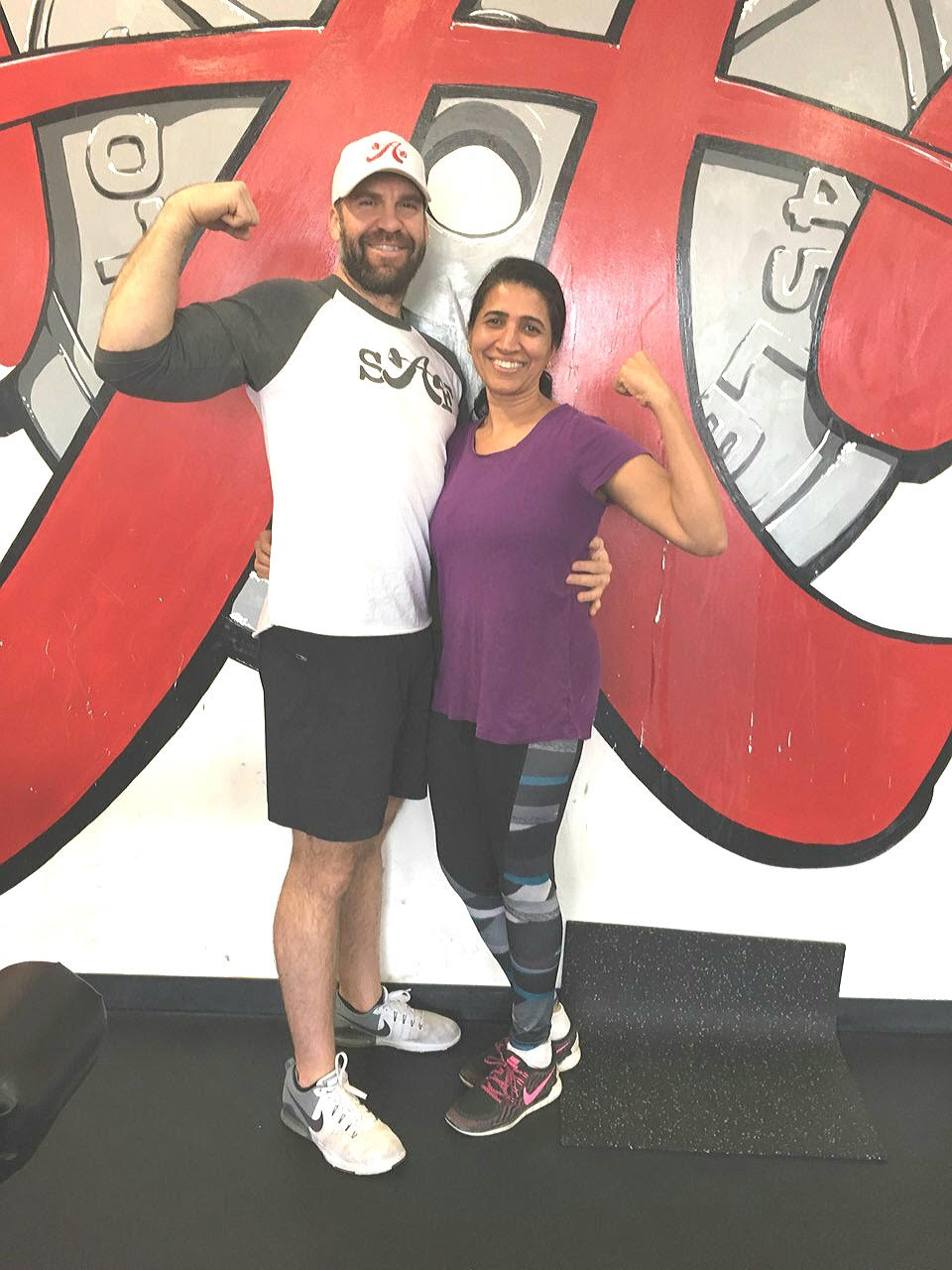 Bharathi Kondur is a 45 year old physician working at the Veterans Clinic here in Austin. She is also a mom of 2 boys and with work and family life and kids' activities she put her health and fitness in the background when all of the sudden, "BOOM! I was 40 and I felt  old, tired, stressed and out of shape," Bharathi said.
Read how Bharathi found Austin Simply Fit, connected with our community and made health and fitness a priority in her own words, below…
Written by Bharathi Kondur 
I have been training with David Polisky for nearly 3 years and I love to write:)  so I think my write up is going to be super long. bear with me, Thats how much I love training with David:) you can delete anything you feel irrelevant. (We deleted nothing!)

I stumbled upon Austin Simply Fit Living social deal and signed up with David Polisky for 4 sessions and I have never looked back. David literally gave me a new lease of life, I have to admit, other than running and yoga sporadically I was never into much strength training. I only focused on losing weight even if,  at the cost of losing muscle mass,
I  literally had  no clue about strength training  and never ever lifted barbells or  even a simple bar, and deadlifts, squats were like foreign words to me,  David eased me into lifting weights, muscle strength training and balancing with a healthy nutrition, Now I can say assuredly that deadlifts and squats are my most favorite part of the training.
I not only achieved my goals with losing weight, but more importantly got fit and strong and was able to enjoy many more activities with my children including rock climbing, biking, hiking and canyoneering.
My outlook about exercise, training, strengthening, cardio, nutrition and physical health in general has changed tremendously and I feel physically and mentally fit and at peace,  I can say David is not only an excellent physical trainer, but he really understands you and works with you to your best ability and continues to push your limits to achieve newer goals and newer physical challenges which I didnt even think I had the strength in me to do.
I have been his client for nearly 3 years and I have never had a single injury because of his excellent techniques and his rather compulsive nature to make sure you have the right form and technique with your training. He explains every movement, anatomy behind it and reason for it, which really makes the training that much more efficient.  Its a pain sometimes with him being so obsessive:)  about it, but I know thats what makes him an unique and amazing, one of a kind trainer.
I just cannot think of a week not training with David,,as its become second nature to me now and I thoroughly enjoy it and I feel physically and mentally fit and strong and of course it boosts my vanity when friends and family compliment on my physical appearance.
My goals are to continue to push my limits to improve on my strength training and performance and improve my cardio training as well and hopefully one day may compete too.
I highly recommend Austin Simply Fit for personal training as all the trainers are super professional and friendly and very accommodating at the same time, I feel like part of the family now after 3 years.
David Polisky is an awesome trainer who works with you on your level and focuses on lot  of compound movements with squats deadlifts,  pull up and emphasizes on proper form and greatly increases your workout's effectiveness and more importantly reduces injury risk.
I think David is very sincere and honest in his work and I highly recommend  any one from novice to experts to train with him and get the results desired. It also helps that he is well read and discusses on wide range of topics and makes the 30 minutes workout a breeze and more importantly he handles my whining pretty well, although David you have to agree that my whining has gotten a lot better after all these years…