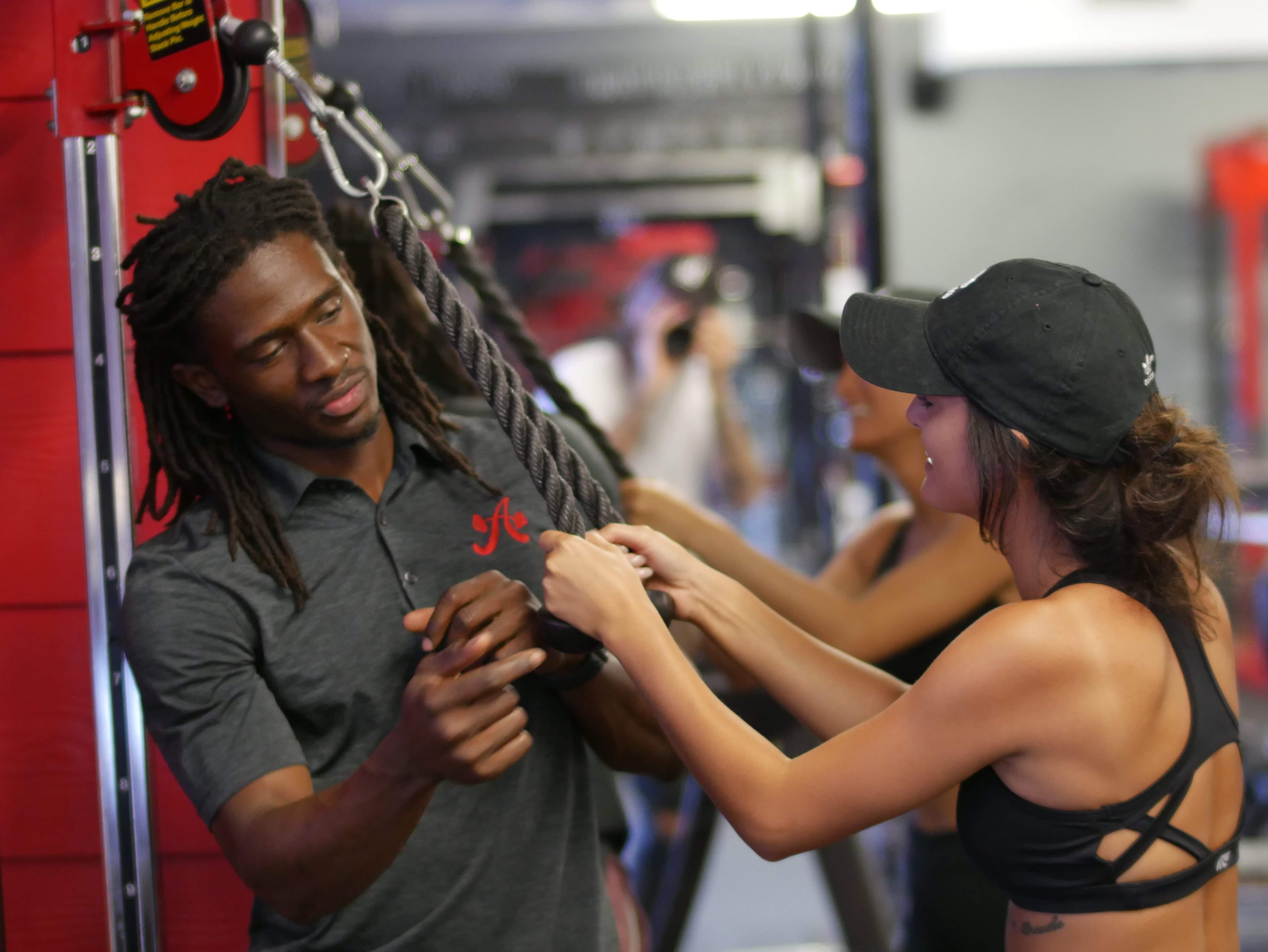 We are currently hiring qualified Personal Trainers. Please submit the form below or email your resume and cover letter to hiring@austinsimplyfit.com.
The Austin Simply Fit team is diverse and shares a common goal: to help people become better, healthier, stronger, and faster. Our personal trainers' backgrounds include more than 25 college degrees and 100 certifications – from general fitness to specific sports preparedness, to walking on a bodybuilding stage or running around after children. Our trainers pride themselves on being able to help everyone who walks through our doors and making the process fun.
The ideal addition to our team is a qualified professional ready to pursue a full-time career as a personal trainer. Austin Simply Fit values our employees, providing our trainers with stability and opportunities for long term personal and professional growth.
Qualifying trainers have access to the following benefits as an Austin Simply Fit employee:
You're a W-2 employee, not a 1099 contract trainer
$33.00 – $60.00 per hour
Medical, Dental, and Vision insurance plans
401(k) savings plans
Continuing education opportunities
Flexible schedule
Marketing support
We are currently hiring qualified Personal Trainers. Please submit the form below or email your resume and cover letter to hiring@austinsimplyfit.com.
---
PERSONAL TRAINER OPENINGS
Austin Simply Fit Personal Trainers empower clients to bring out the best in themselves by providing safe, effective, and creative workouts that support their clients, no matter where they are in their fitness journey. This includes establishing a baseline, monitoring proper execution of exercises, and documenting and reporting client progress as you work together.
JOB DESCRIPTION
Austin Simply Fit is looking for an exceptional personal trainer to join our family of performance coaches.
Qualifications:
The ideal trainer at Austin Simply Fit is a hard working individual who thrives on helping both clients and peers become better people. This caring and empathetic person should have an energy and a positive attitude that can be felt by those around them. They should be personable and adaptable, a team player who can easily relate to and connect with people of varying backgrounds. They must be able to think on their feet and adjust to changes with confidence, and they must be a lifelong learner with a willingness to learn new ideas from others. They must be someone who loves training, and fitness must rank in the top 5 priorities in their life.
Responsibilities:
Create a friendly, positive, family-like environment for the clients and staff

Understand and teach basic movement patterns and lifts

Track client training and progress toward goals

Communicate clearly with clients, ensuring they have a positive experience every time they're in the gym 

Maintain organization and cleanliness of the weight room area

Continue your personal education in industry standards
Requirements:
Personal training or strength coach experience, 2+ years preferred

Available to attend periodic in-house continuing education and weekly meetings on Thursdays

Ability to use a computer and perform administrative tasks such as scheduling and collecting payments

Compete in any fitness-related event. If you have not competed recently, it is expected that you do so within one year of employment

Demonstrate humility – none of our coaches is above sweeping floors or taking out the trash
What sets Austin Simply Fit apart from other companies:
An amazing community of staff, coaches and clients that makes Austin Simply Fit more than a team, we're a family.

Trainers are hired as W-2 employees.

Health benefits and 401(k) matching for qualified employees.

An on-boarding process that allows you to maximize your skills and time to be most successful.

While generating leads can create faster growth, we have a marketing department that assists our trainers in doing so.

Each trainer has opportunities to contribute to Austin Simply Fit's knowledge base and culture. We view our workplace as always improving, and that only happens through a team effort.

We aspire to create career paths for our trainers with opportunities within our growing company.

We are a woman-owned and operated gym, focused on promoting equality and diversity in the fitness industry.
Please attach a cover letter as well as your resume.
Job Types: Full-time, Part-time, Commission
Pay: $33.00 – $60.00 per hour
COVID-19 considerations:
We have specific procedures in place to prevent the spread of COVID-19 within our community. Our trainers and clients are asked to wear masks while on site when advised by local health guidelines. We also provide hand sanitizer for the safety of our employees.
We are currently hiring qualified Personal Trainers. Please submit the form below or email your resume and cover letter to hiring@austinsimplyfit.com.
---
Nick Deluz is one of the few trainers I've met that truly cares about what you are trying to achieve. He goes above and beyond by giving meal plans and workouts that I can do outside of the sessions I have with him. I initially planned to just do a few sessions to get back into lifting but after seeing the value that Nick provides I'm going to continue working out with him for the foreseeable future.
– Thomas West