Frequently Asked Questions
Personal Training for Beginners & Beyond
Austin Simply Fit is here for you. Our goal is to help you achieve your goals. Whether this is your first time working out with a personal trainer or you are a seasoned athlete, our certified personal trainers will design a custom strength and fitness program to help you feel and perform better.
---
What do I need to do before my first personal training session?
After you have scheduled your 1-hour consultation and training session, all you need to do is come in ready to work out. We'll take care of the rest. Each initial consultation includes a 30-minute conversation about your fitness and health goals, medical and training history, and our personal training programs, followed by a challenging workout led by one of our qualified personal trainers. We'll help you take that next step on your fitness journey. Welcome to Austin Simply Fit! Be sure you confirm the location of our fitness studios.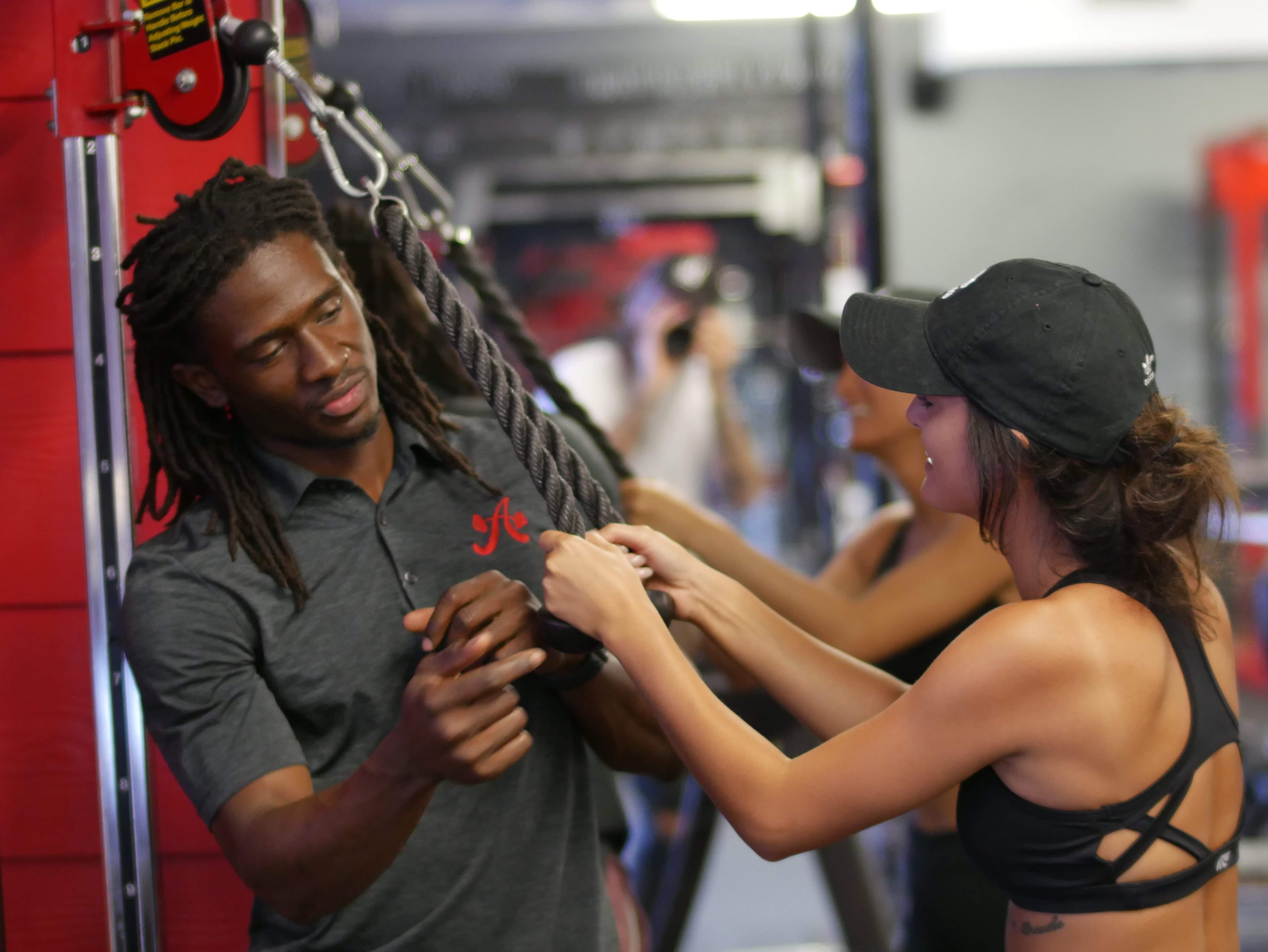 How is training at your personal training studio different from a commercial gym?
At Austin Simply Fit, we pride ourselves in creating an encouraging atmosphere that puts the client first. Our purpose is to create a great community and to help people feel and perform better through personal training. Get to know our experienced team of personal trainers and read what our satisfied clients have to say about us.
Do I need to be an experienced weightlifter to work with a personal trainer?
No experience is needed. We specialize in creating customized personal training programs for all fitness levels. Our fitness coaches will meet you where you are. Whether you're a beginner stepping into the gym for the first time, someone seeking more accountability, an experienced athlete, or somewhere in between, we'll help you reach your goals.
Will I get injured during a private strength training session?
Strength training can help prevent injuries from happening. Our expert trainers will teach you to lift with proper form. Proper lifting technique can correct a lot of movement issues and imbalances, thus lowering your chance of injury. Our one-on-one personal training programs are designed to help you achieve your fitness goals in a safe and progressive way. Your personal trainer will be with you every step of the way. Contact Austin Simply Fit to book a free first personal training session.
Do you offer diet and nutritional coaching to compliment my workouts?
Austin Simply Fit specializes in personal training, but we know comprehensive and holistic support to your overall wellness and health is the best way to optimize results. Meaghan MacLean offers nutritional assessments and wellness plans, or you can take a deep dive into your health and book 3-months of nutritional therapy coaching. Nutritional Therapy will help you identify exactly what your body's unique needs are and how to best support your health while getting stronger from the inside out! Learn more about our Functional Nutritional Therapy & Health Coaching packages.
Does Austin Simply Fit offer bootcamps or group fitness classes?
While we do not offer typical group classes, we do offer semi-private, small group training. Our fitness coaches are experienced in a variety of training modalities and can create custom workouts, including high-intensity interval training, according to the goals of the small group.
Will strength training make me bulky?
Absolutely not. Strength training will make you stronger. Many people who strength train will lose body fat in the process. When someone is specifically trying to bulk and add mass, they must make increases in their diet to help their body grow. If you have a specific fitness or health goal in mind, our experienced certified personal trainers can help you achieve it. We'll keep you informed and focused while we walk you through your personal fitness program every step of the way. Start your journey to improved health and book a FREE first personal training session.
Dave Stogsdill's workouts are dynamic and I continually see results every time. I feel more connected to my body than ever and it's shown in the growth in strength I've experienced over this past few months. Dave is always so flexible with my scheduling and upbeat even for our early morning workouts.
– Zack Snyder