For more than a decade, Austin Simply Fit has focused on building a community of individuals as passionate and committed to each other as they are to their own health and fitness.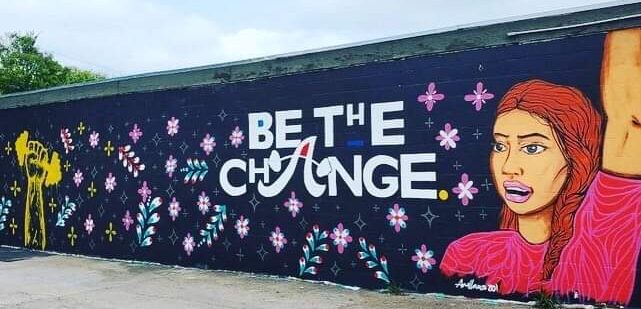 Austin Simply Fit exists for three reasons: community care, success and empowerment, and knowledge sharing. Through these pillars we strive to set an example of what it looks like to "Be The Change." We believe that by providing the people in our community with the tools and support they need to achieve their goals, we will create a waterfall effect, helping thousands become their best selves, physically and mentally, through a lifestyle of health and fitness.

That's why ASF spends significant time each year supporting local causes, entrepreneurs, and our own community members in achieving goals and overcoming hardships. From collaborating with local non-profits, to strength competitions and sponsoring local sports teams, Austin Simply Fit's commitment is to "Be The Change" and to give back to our community in as many ways as possible. 
Here are a few of the programs we've hosted over the years and ways you can get involved.
---
Austin Simply Fit Student Athlete Scholarship Fund


At Austin Simply Fit, it has been our goal for years to create a scholarship fund for student athletes. Ironically, in one of the most challenging years of our business, and amid the COVID-19 pandemic, we decided that the time was right. The idea to continue honoring our colleague DJ gave us that extra push of inspiration to get it done. In 2021, we realized this dream and created the Austin Simply Fit Student Athlete Scholarship Fund.
Together with the community, we raised $4,000 to support 8 student athletes headed to college in the fall of 2021. In 2022, we raised $5,000 and were able to offer scholarships to 10 Austin student athletes. We increased the value of the scholarships in 2023, and we raised $8,000 to support 8 senior athletes. Learn more about the scholarship fund here.  
---
Coach DJ's Memorial Bench-A-Thon

Coach DJ's Memorial Bench-A-Thon honors the memory of our beloved Coach DJ Cedent, who passed in 2019 from sickle cell disease.
DJ was an exceptional personal trainer, and everyone who knew him felt his enormous energy and passion not only for fitness, but for his community. He was a teammate in every sense of the word – supportive, encouraging, a teacher, a student. He was fearless in his fight against sickle cell disease, refusing its limitations and always training with passion and intensity. This event has been hosted in person and virtually since 2019, and over the years has raised over $20,000 for various causes.
---
DAWA Fund
DAWA Fund is a local Austin organization that serves as a safety net for people of color who are experiencing a short term life crisis. More specifically, they serve people of color who are musicians, artists, social workers, teachers and healing practitioners. Read about their mission and impact here.
Through DAWA Fund, we can Be The Change and support the diverse artistic community in our city. Austin Simply Fit invites you to learn more about the organization and check out our ongoing custom t-shirt fundraiser here.
I'm a professional athlete who is home in between seasons... David Polisky quickly blew me away with his knowledge of proper form, encouragement and great workouts, where I see results each week. I enjoy small gyms because it feels like you're a part of something. Seeing David has made my game better and also made me feel stronger and more confident in myself!
– Courtney Duever