Athletic Development & Performance Training
We help build athletes from the ground up! At Austin Simply Fit, you'll find certified personal trainers dedicated to the performance and development of athletes across a broad range of sports.
While many of our clients arrive at Austin Simply Fit seeking general strength and fitness, others are pursuing excellence in a particular sport. Whether you are a high school athlete hoping to earn a college scholarship, or an amateur powerlifter preparing for your first meet, our experienced coaches will help you develop your strength and skills to excel in your sport.
Holistic Training Plans for Every Athlete
Our personal trainers understand how the body moves, and how important balanced strength and mobility is to athletic success. We take a holistic approach—learning who each athlete is and developing a clear understanding of your specific motivation and fitness goals. 
With a coach's eye, we will identify movement patterns and muscle groups that need development in order to customize a training program that gets you strong and mobile so you excel in your sport. 
Working with an Austin Simply Fit personal trainer will elevate your understanding of biomechanics and how your body works, and will help you bullet-proof your body to prevent injury down the road. Our athletes can expect to build strength, improve mobility, increase endurance and work capacity, and learn the fundamentals of movement.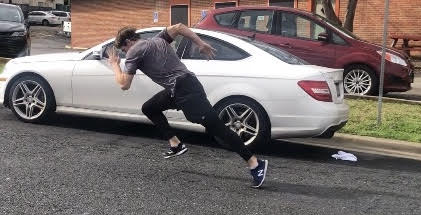 Student Athlete Training
In our program for student athletes, you can expect not only to develop your physical literacy, you will also learn to cultivate discipline, work ethic, and an athlete's mindset. You will know your way around the weight room, giving you a head start when entering the world of high school or college athletics. This program will take your athletic performance to the next level, giving you a competitive edge to earn that scholarship or make the varsity team.
Many of our high school athletes choose to train in semi-private training teams of up to six student athletes. This provides opportunities for leadership development within a team. We are also committed to fostering transparent communication with each athlete's sports coach to ensure consistency across the training.
If you're ready to become a better athlete, click here to schedule your free consultation and first workout. Please be sure to indicate which sport you are training for and whether you are interested in training in a small group.
FREE First Workout
FREE 1-Hour Consultation
FREE Body Composition Analysis
Personalized workouts for your goals!
---
Frequently Asked Questions
What sports are your personal trainers proficient in coaching?
Our personal trainers have experience with a wide range of sports, both as athletes and as coaches. From powerlifting, strongman, Olympic lifting and bodybuilding, to track & field, baseball, basketball, football, soccer, tennis, swimming and more. 
How do I get paired with a sport-specific personal trainer? Is it random or is there a process?
Coach Sierra Nevels is the Director of our Sports Performance program, and she personally coaches many of our student athletes. Additionally, many of our personal trainers are educated and experienced athletic coaches. Be sure to specify your sport when you book your consultation so we can match you with a trainer who best meets your needs.
How long is each sport-specific session? Am I able to pick the length and frequency of my sessions?
As with our personal training sessions, Sports Performance sessions are typically 30 minutes of coaching. Coach Sierra teaches proper warm ups that athletes are encouraged to do prior to the start of their sessions.
With sport-specific training, will there be any point in my sessions where we work with the actual sport itself?
We focus on the strength and conditioning side of the sport, bullet-proofing athletes' bodies to be ready for training and competing with their teams. Many of the movements athletes do in the gym will translate directly to what they do on the field or the court, and our coaches are available to confer with team coaches, but we leave the actual sports training to them.
Is sport-specific training available both in-person and virtually?
While athletes occasionally may wish to take advantage of a virtual session when they are traveling or otherwise unable to come into the gym, sport-specific athletes will greatly benefit from hands-on cueing and the state-of-the-art equipment we offer in our studios.
Meet Your Athletic Development & Performance Personal Trainer
As former pro and collegiate athletes, and sports enthusiasts themselves, Austin Simply Fit personal trainers live to educate and re-educate athletes on the importance of motor patterns, muscle memory, strength as a foundation, and proper recovery and regeneration methods, for all of our athletes. The ASF team is skilled at working with all athletes from Olympic hopefuls, to pro-bodybuilders and specializes in the development of young athletes and dual-sport athletes. By teaching, educating, and putting those lessons into practice, we provide tangible results through performance and recovery monitoring.
For more information, please reach out to Austin Simply Fit at info@austinsimplyfit.com
Personal Training Packages for All Fitness Levels
Austin Simply Fit has a personal training package for you!
Vilita Cruz is the best personal trainer I've ever had! She is patient with those just starting their journey, encouraging, and makes everything clear to understand. She takes the time to get to know her clients, understands their strengths/weaknesses, and how best to achieve personal success.
– Alana Grayson