Athletic Development & Performance Training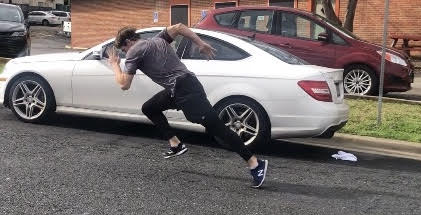 We help build athletes from the ground up! At Austin Simply Fit, you'll find certified personal trainers dedicated to the performance and development of athletes.
Holistic Athletic Training Plans
Our coaches take a holistic approach to athletic success. We start with the person—learning who each athlete is and developing a clear understanding of your specific motivation and fitness goals. Next, we focus on your sport-specific skills and desired physical achievements.
No matter your skill level, our performance and development coaches will create an athletic personal training program focused on a solid foundation of physical literacy. Your customized training program will start with the fundamentals of athleticism, including balance, running, skipping, jumping, bounding, work capacity, endurance, strength, and explosive power.
Sport-Specific Skill Development & Training
Once you have achieved your goals in fundamental athletic skills, our personal trainers will coach each athlete to build specific physical skills and qualities that will transfer to the field or within your respective sport. Every step of the way, your trainer will coach you to your full fitness potential as you improve general strength, reactive strength, explosive strength, speed-strength, strength speed, power, and power endurance.
Achieve Individual Athlete & Team Goals
We are here to support the entire team's goals through their athletes. In addition to helping athletes when they are in-season, Austin Simply Fit's personal trainers and athletic performance coaches are experts in the off-season and in-season training. It is our promise to help all of our athletes succeed and foster transparent communication with each athlete's coach.
LET'S GET STARTED!
FREE First Workout
FREE 1-Hour Consultation
FREE Body Composition Analysis
Personalized workouts for your goals!
Meet Your Athletic Development & Performance Personal Trainer
As former pro and collegiate athletes, and sports enthusiasts themselves, Austin Simply Fit personal trainers live to educate and re-educate athletes on the importance of motor patterns, muscle memory, strength as a foundation, and proper recovery and regeneration methods, for all of our athletes. The ASF team is skilled at working with all athletes from Olympic hopefuls, to pro-bodybuilders and specializes in the development of young athletes and dual-sport athletes. By teaching, educating, and putting those lessons into practice, we provide tangible results through performance and recovery monitoring.
For more information, please reach out to Austin Simply Fit at info@austinsimplyfit.com
Personal Training Packages for All Fitness Levels
Austin Simply Fit has a personal training package for you!
I could not be happier with Nicky Trbovich at Austin Simply Fit. He really listens to what my goals and needs are and keeps it all in mind when devising a plan, a plan that has evolved as I have gotten stronger. In fact, I have to say he has gone above and beyond what any other trainer I've ever worked with has done.
– Megan Lenoir