Athletic Development + Performance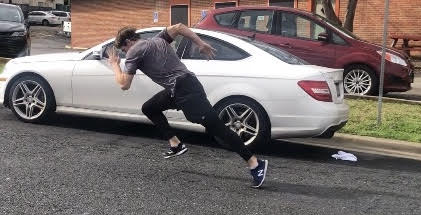 The Athletic Development + Performance coaches at Austin Simply Fit take a holistic approach to helping athletes succeed. This means our coaches build each athlete based on their specific needs as a human, first. Building the athlete from the ground-up no matter their skill level, creating a solid foundation and locking in the basic fundamentals of athleticism all athletes need, including: balance, running, skipping, jumping, bounding, work capacity ,endurance, strength and explosive power.
Once those skills have been mastered, the performance coaches work with each athlete to build specific qualities pertaining to general strength, reactive strength, explosive strength, speed strength, strength speed, power, and power endurance training which transfers to the field, and respective sport(s).
As former collegiate athletes and sports enthusiasts themselves, Mark and Sierra live to educate and re-educate athletes on the importance of proper recovery and regeneration methods, for all of our athletes, but especially for the young athletes and the young dual sport athletes. By teaching, educating, and putting those lessons into practice we provide tangible results through performance and recovery monitoring.
In addition to helping athletes when they are in-season, Austin Simply Fit's Performance Coaches are experts in building off-season training to fit all athletes needs. It is our promise to help all of our athletes succeed, and part of that promise is keeping in communication with the athlete's coaches because athletic success is a TEAM effort, and ASF is here to support the entire team's goals through their athletes.
For more information, contact Austin Simply Fit Director of Athletic Performance, Sierra Nevels (sierra@austinsimplyfit.com)
ABOUT AUSTIN SIMPLY FIT ATHLETIC DEVELOPMENT & PERFORMANCE COACHES
Sierra Nevels serves at ASF's Director of Athletic Performance. In her career, she has worked with high-level elite athletes of all sports backgrounds, and has worked for top athletic programs in the world, including the Longhorn Women's Basketball team. By working with and coaching for the best athletes and sport and strength coaches in the world, Sierra has learned from the best and developed her own philosophy as to "WHY" top athletes out perform their competition, and "HOW" to get every athlete to the top of their game. Sierra coaches Athletic Development + Performance at our Leander, Central and South Lamar locations.
Mark Rogers is the Founder and President of Austin Simply Fit. As Head Coach of the organization, he leads the vision for our classes and how ASF classes support athletes and clients of all interests and fitness backgrounds. Mark is a seasoned athlete himself, as a football player and accomplished powerlifter. He is also co-founder and head coach of the Leander Wolfpack, Leander's first minor league major sports team. With many years of coaching athletes and personal training clients, Mark's methodologies have helped thousands of people achieve and exceed their goals. Mark coaches Athletic Development + Performance at our Leander facility. 
Personal Training Packages for All Fitness Levels
Austin Simply Fit has a personal training package for you!
...the location at South Lamar is clean, well-organized, never over-crowded, equipped with modern machines and workout gear, and above all has a great positive-encouraging atmosphere...
– Brandon Edward Elizondo