Athlete of the Month
CLIENT HIGHLIGHTS | FEBRUARY 2021
This month's athletes share a determined mindset that has been crucial to their long term success. Andy and Bharathi know that consistency is the key to building real strength, and together with their trainers, they have pushed through challenges and continued to grow! 
ASF CENTRAL: ANDY SEKEL
From Andy's trainer, Krista Bergeron: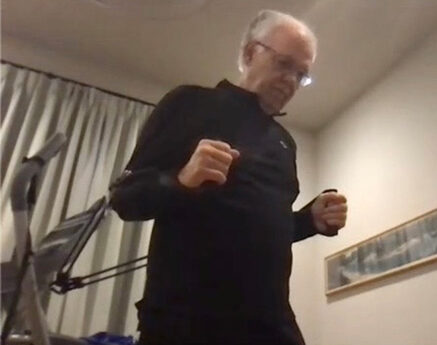 I nominated Dr. Sekel for a couple reasons, both performance and mindset. Andy has been training with ASF, since the beginning of our gym in 2010, first with Mark Rogers and then with me. He initially did some powerlifting, and was particularly in love with bench. 
Some things have not changed, Andy still loves to press, but since the hit of COVID he became 100% virtual. We started with very little to work with, just a few bands and a couple dumbbells. Andy approached this new chapter the way he does everything, with an open mind and willingness to set some new goals based on the limitations we had in this new training program. 
I am happy to say, at age 71 and 9+ months in quarantine, Andy feels like the work he maintained online, along with his active lifestyle, has him feeling fit, mobile and as strong as ever. He continued to add items to his home gym setup, which has allowed us to work just as hard as ever. Of course, he cannot wait to touch a barbell and actually bench press, but he didn't let doing things differently become an excuse for not continuing to stay happy and healthy. Andy just had the mindset to get better in other ways during this time. 
I'm so grateful for his continued faith in ASF and me to facilitate his life long journey to stay happy and healthy. We are a great team! 
ASF SOUTH: BHARATHI KONDUR
From Bharathi's trainer, David Polisky:

Bharathi has been my client of the month before, but I selected her again because of her unwavering determination and drive to be her best self. She made a resolution that she wanted to be able to do a single push-up by January 20th, 2021, and she was able to complete FIVE instead!
She has transformed her mindset, and is always looking for activities to pursue in her time outside of the studio. She actually has come in and told me, "I feel lazy, I haven't done ANYTHING outside since our last meeting" (even though we meet every Monday/Wednesday/Friday). 
I look forward to helping Bharathi crush her next goal, because whatever she's got in store for herself, I know she'll be able to accomplish it!