Written by John Cioffredi
For many people, exercise can feel like a solitary activity. Even with the enthusiasm of a great personal trainer, the excitement of initial successes can start to dissipate, and that ever-growing urge to hit the snooze button can outweigh the motivation to work towards your long term goals. These sentiments play out in the research as well, with about 50% of people who begin an exercise program calling it quits within just 6 months [1].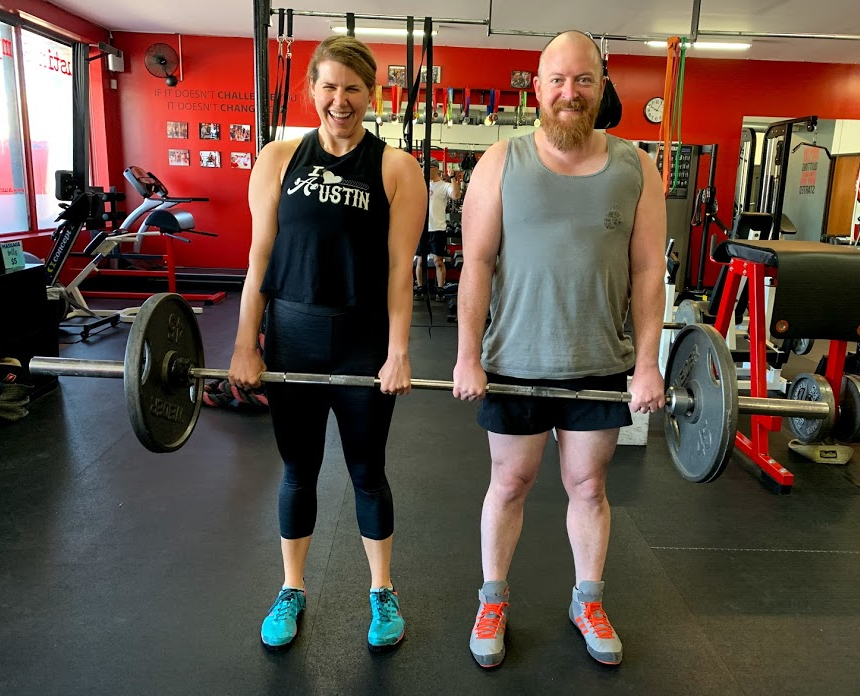 Luckily, decades of research has also shown that there is an easy solution to the problem of promising yourself you'll get back into exercising in January, only to be back on the couch with July [2,3]. 
The not-so-secret solution is having a workout buddy! Exercising with a significant other increases your chances of being able to stick with a workout routine by nearly 40% [2]! The best part is that this approach will not only increase your chances of sticking to an exercise routine, but will also strengthen your relationships with your significant other as well!
Friends and family are so important, in fact, that the greatest predictor of whether or not you'll still be exercising a year from now is how supportive your friends and family are midway through the year [4]. The CDC explains that this is because the accountability of a workout buddy helps you stay consistent and motivated in your workout routine [5].
So as Valentine's Day approaches, and your motivation to stick to your New Year's Resolution starts to wane, consider asking your partner, family member, or friend to be your workout buddy for 2021 so that you can stay fit and fierce for the entire year!
Contact us to find the right trainer for your health and fitness goals. Workout partner not required, your ASF personal trainer will be the perfect accountability-buddy.
---
References
[1] https://psycnet.apa.org/record/1983-06351-001
Dishman, R. K. (1982). Compliance/adherence in health-related exercise. Health Psychology, 1(3), 237–267.
[2] https://europepmc.org/article/med/8775648
Wallace JP, Raglin JS, Jastremski CA. Twelve month adherence of adults who joined a fitness program with a spouse vs without a spouse. The Journal of Sports Medicine and Physical Fitness. 1995 Sep;35(3):206-213.
[3] https://pdfs.semanticscholar.org/4b62/b89b2990d0dc7ba744eb258f72e61520a070.pdf
Carron, Albert V., Heather A. Hausenblas, and Diane Mack. "Social influence and exercise: A meta-analysis." Journal of Sport and Exercise Psychology 18.1 (1996): 1-16.
[4] https://europepmc.org/article/med/9373378
Oka RK, King AC, Young DR. Sources of social support as predictors of exercise adherence in women and men ages 50 to 65 years. Women's Health (Hillsdale, N.J.). 1995 ;1(2):161-175.
[5] https://www.cdc.gov/diabetes/library/spotlights/workout-buddy.html