Blog
RECIPE: EASY EGG FRITATTA
EASY AND PORTABLE EGG FRITTATAS
"But, Chelsea, I don't have time to cook," is one of the most common excuses I hear when people tell me they struggle with eating a nutritious and balanced diet. So, here I introduce my EASY egg muffin recipe that you need to immediately add to your meal prep menu. Perfect for breakfast on the go or even for a mid-afternoon snack. These portable, macro-friendly muffins are delicious any time of the day. And did I mention, easy to make?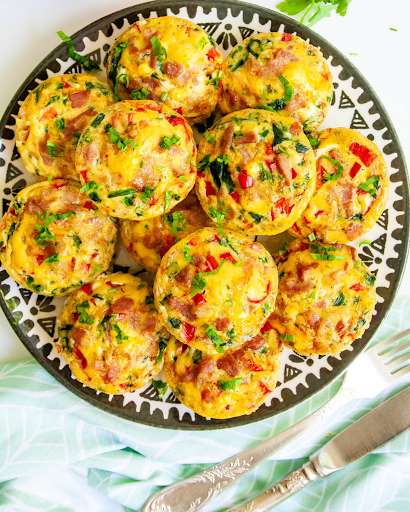 Makes about 6 egg muffins. 
Ingredients:
1 16oz carton of Southwest Style egg beaters (you can substitute real eggs, but this will change the macros, and adds in a little more work if you are rushed for time)

1 cup kale, chopped

1/4 cup chives, finely chopped

6 slices Prosciutto

salt and pepper to taste

PAM Olive Oil spray

6 cup muffin tray
Directions:
Preheat oven to 350 degrees. Spray muffin tray with PAM.

In a large bowl, mix egg beaters, kale, chives and salt and pepper. Mix well.

Place a piece of Prosciutto in each muffin cup.

Divide the egg mixture between the muffin cups. Fill only 2/3 of each cup as the mixture rises when baking.

Bake in oven for 30 minutes.

Let cool a few minutes and then lift out carefully with a fork. Note that the muffins will sink a bit.
MACROS for 1 egg muffin:
66 calories, 9.9 g protein, 1.1 g carbs, 1.8 g fat