Blog
Austin Outdoors: McKinney Falls, a Gem in South Austin
By Beckie Lough
I love living in Austin. You can spend years here and not exhaust the vast collection of parks and outdoor spaces the city has to offer. Last weekend, I finally made it out to a hidden gem in South Austin – McKinney Falls State Park.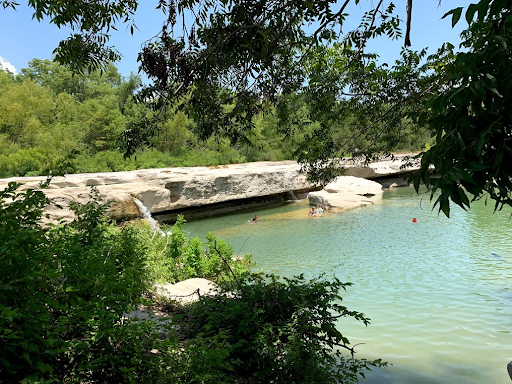 After getting off to yet another late start to my Sunday run, I wanted to go somewhere I could run in the shade and finish with a refreshing swim. The Greenbelt is fun, but it has been mostly dry lately. A run around the Trail at Lady Bird Lake followed by a dunk in Barton Springs is Peak Sunday for me, but it was already so late that parking at the Springs would have been a hassle. So I packed my water, sunscreen, and a snack, and headed to McKinney Falls. 
I had checked out the trail map online ahead of time, so I headed right after entering the park, toward the Lower Falls. This side of the park offers plenty of parking, clean restrooms, shaded picnic areas, and swimming above and below the Falls. It's also home to most of the park's trails, which run in a series of connected loops. The layout is most convenient – I could choose to do 3.1, 4.6 or 5.7 miles (and could decide en route), and I was unlikely to get lost. The other side of the park hosts all of the camping areas, the Upper Falls, plus an additional 3.9 miles of trails.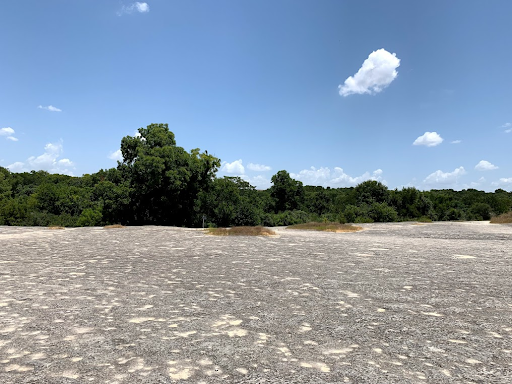 I found myself walking under the blazing sun across a moonscape of rock toward the Lower Falls. There were several families picnicking and swimming, but it was not crowded. I picked my way across the top of the Falls (although photos online show a beautiful rushing waterfall, when I was there it was just a tiny faucet) and found sweet relief in the shade of Homestead Trail.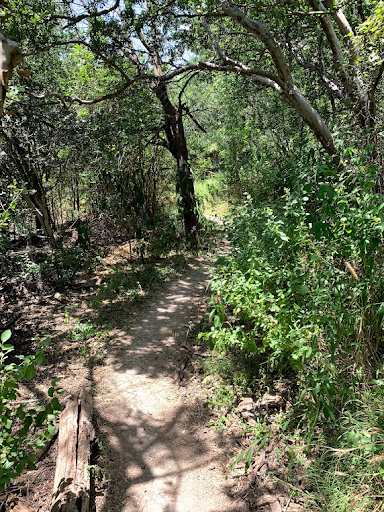 Running on trails is so different from running in a neighborhood. There is a thrill that comes from being far away from most everyone else, from the risk of getting lost, from the pungent heat rising up from the forest floor. These trails were often narrow, and lush like the Greenbelt trails. There were a few rocky areas, but it was mostly level – I was able to get a good stride going without too much technical footwork. I felt alert and excited as I bounded through the woods.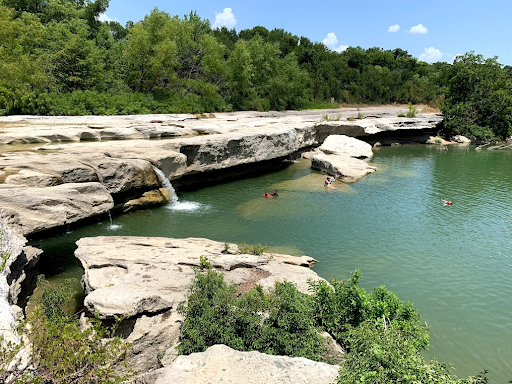 I made it through all three loops, mostly because I wanted to explore each trail! I encountered only a few other hikers and bikers along the way. When I finally emerged from the woods, I kicked off my shoes and ran straight into the water. It was not quite the clear, cold shock of Barton Springs, but it was rejuvenating in its own murky way. I love the glorious feeling of exhaustion after a tough run. I'm always a little dazed, but my senses are heightened, coming back to equilibrium after pushing hard for an hour. I stood in the water, feeling the coolness, hearing the splashing falls, body buzzing. My afternoon nap had been well-earned.
The Details:
Located just 20 minutes from Austin Simply Fit South, McKinney Falls offers overnight camping, swimming, biking, hiking and trail running. If you're going on a weekend day, call ahead to ensure the park is not at capacity. I arrived before 11 am on a Sunday and did not have trouble parking, but when I left around 1 pm, the capacity sign was up. If you want to be sure you get in, you can reserve a day pass online ahead of time, which run $6. Weekend camping fills up weeks in advance, so plan accordingly.