Athlete of the Month
JAMES RENO + BRYAN MARKER: ASF CENTRAL ATHLETE OF THE MONTH – APRIL 2018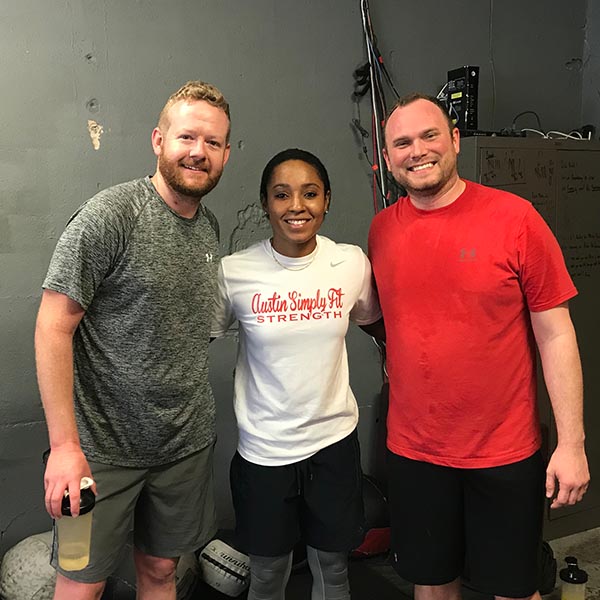 James and Bryan are one of Coach Sierra's morning semi-private client duos. They bring a fierce energy and entertainment to their workouts every day. Coach Sierra kept her nomination for James and Bryan short and sweet, "These two are fun and make mornings enjoyable. I'm glad to be working with them."

The duo took a few minute to answer questions about their ASF experience. Read below to find out what has them coming into ASF Central for more than a year now.
Why did you decide to join ASF?
We wanted somebody to hold us accountable to keeping a schedule, personalized workouts for our goals, a place that wasn't crowded, and help to do everything right (because we've both hurt ourselves working out in the past).
What were your goals when you started?
Feel healthier and feel better about ourselves
How close are you to meeting them?
We definitely feel better and healthier, we also know that we need to keep going!
What changes have you noticed in your body, mind, spirit since starting at ASF?
More energy, especially on workout days, and fewer injuries from normal life and stress relief.
What challenges have you had to overcome, if any, since starting out at ASF?
As vegetarians, getting enough good food and protein is a constant challenge. We work out in the morning, so maybe the biggest challenge is getting out of bed, getting enough caffeine and breakfast, and ignoring the voice that says "today isn't good" until we have enough coffee and breakfast.
Any surprises since starting at ASF?
Occasionally looking in the mirror and being surprised at where muscles have grown or doing something that would have been physically exhausting before that isn't a problem now (we just easily moved a big couch into the house like it was nothing).
Why do you like working out with Sierra?
She knows we don't love working out, but she keeps us doing it.  She laughs with us when we need it and adapts the workout when we need that.
What is it about Sierra/ASF that keeps you coming back?
It's a comfortable place to work out even on / especially on the days that we don't feel like it.
What are your goals & plans for the future at ASF?
Keep going! A couple of months ago we changed our schedule to come in more regularly (work was getting in the way) and it's been noticeably paying off.
What is your favorite food?
Bean and cheese nachos or tacos are a guilty food. Indian food is our favorite – we love to cook and that is the most fun to make and has so many options for vegetarians.
Any advice you'd share with a newcomer to ASF?
Part of what's great is the relationship you build with your trainer and how they can make exercising work for you – give it enough time for that and be honest in that time.