Blog
Holiday Dessert: Avocado Chocolate Pudding!
Written by John DeLaPaz
Avocado chocolate pudding?! In just a few minutes, you can combine three basic ingredients to make one tasty treat, packed with healthy fats. 
I don't eat desserts often, but when I do, I'm looking for something made from scratch. I find that my body responds to homemade snacks far better than the processed cookies and cakes you find in the aisles of the grocery store.
Enter this extremely simple and easy-to-make recipe for avocado chocolate pudding. 
Ingredients (2 servings):
Whole avocados: 2

Avocados are high in anti-inflammatory omega-3 fatty acids, fiber, potassium, magnesium, folate, lutein, zeaxanthin, thiamine (B1), riboflavin (B2), niacin (B3), B6, along with vitamins A, D, E and K.

Pure maple syrup: 4 tablespoons

Maple syrup contains an antioxidant plant nutrient (known as phenols) that offers health benefits. It's also lower on the glycemic index compared to sugar.

Organic cocoa powder: 3 tablespoons

Cocoa powder is a great source of polyphenols. Positive effects on mood may be due to cocoa's flavanols and the conversion of tryptophan to the natural mood stabilizer serotonin. Health benefits of cocoa include decreased inflammation, improved heart and brain health, blood sugar and weight control, and healthy teeth and skin.
Instructions:
Cut avocados in half and remove the seeds.

Scoop out the insides of the avocado and mash it up with a bowl with a fork or a whisk. For a smoother texture, you can use a small blender.

Add 3 flat tablespoons of cocoa powder and 4 tablespoons of maple syrup to the mixture. Feel free to add extra maple syrup if you prefer a sweeter taste.

Mix the ingredients in your blender or bowl until it is to your desired consistency. 

Put mixture in the fridge for at least 30 minutes to chill, as it's a dish best served cold.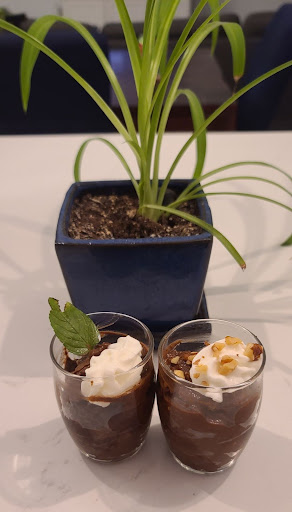 Personalize your pudding:
Once you have transferred your pudding into a small cup or bowl, it's time to add toppers. My wife and I like putting fresh whipped cream on top. She also added fresh mint from our garden, while I sprinkled chopped walnut pieces on top.
I hope you enjoy this fast, tasty and healthy recipe as much as I do!