Athlete of the Month
ELAINE KASPER: ASF CENTRAL ATHLETE OF THE MONTH – SEPTEMBER 2018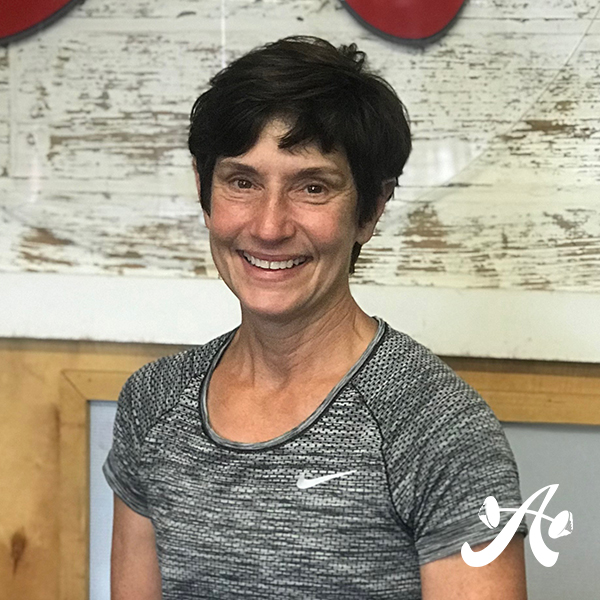 Coach Sierra has nominated Elaine for Athlete of the Month, Central because she's always on the grind! She runs a minimum 6 miles a day and still comes in 3 time a week to strength train to enhance her running performance and reduce any chance of overuse injury.  As a teacher for both preschoolers and older adults – teaching fall prevention and caregiving classes – Elaine keep her health, fitness, and strength a priority to keep up with all of her students.
Read here to learn more about Elaine's ASF experience:

How old are you?
I am 54 – and quickly approaching 55!
What do you do for work/ in your professional life?
I am an adjunct teacher for older adults, teaching fall prevention and caregiving classes. At the other end of the age spectrum, I substitute teach at the preschool my daughters attended.
How long have you been working out at ASF?
I've been working out at ASF since the end of June 2018.
Why did you decide to join ASF?
After racing shorter distances for a very long time, I signed up to run my first marathon in early December and felt like strength training would be important to help me manage my running workouts and get me to the start (and finish!) line injury free. A friend recommended Sierra because of Sierra's expertise in endurance and strength training.
What were your goals when you started
I hoped to be race ready and injury free for an upcoming race in early December. I was looking for strength training compatible with what I do outside of the gym.
How close are you to meeting them?
I am thrilled with how much stronger I've gotten and definitely feel like strength training has helped my running. My race is about two months away and I look forward to seeing what I can accomplish in the gym at ASF before then.
What changes have you noticed in your body, mind, and spirit since starting at ASF?
I am super excited about how much stronger I feel.  This has translated into feeling better and stronger during my running workouts and life in general. I always feel better mentally and physically after my workouts.
Any surprises since starting at ASF?
Before ASF I was familiar with one-hour gym workouts and am surprised to find out how effective just 30 minutes can be. I absolutely love the 30-minute workouts. The shorter workout is so much easier to incorporate into my day yet has clearly made a positive impact.
Why do you like working out with Sierra?
Sierra is very attentive to what is specifically going on in my body and what my needs are. She makes any necessary adjustments on the spot and challenges me in a positive way. She designs my workouts based on what I am doing that day or week outside of the gym. I totally trust her training. And I'm always happy to get her latest cold brew recommendation!!
What is it about Sierra/ASF that keeps you coming back?
ASF has an incredibly positive and great feel. Everyone is welcomed and is encouraged. The progress I've made at ASF and seeing it transfer to other areas of my life keeps me excited, motivated and ready for my next session.
What are your goals & plans for the future at ASF?
I'm hooked and have told Sierra that I am addicted to becoming stronger!! It's very empowering and I plan to continue training even after my goal race in December.
What is your favorite food?
Hmm – for better or worse I like all foods!