Blog
We're kind of a big deal. YELP & Thumbtack say so.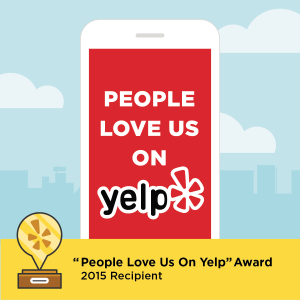 We're not ones to brag. Wait, yes we are! Austin Simply Fit just received the "People Love Us On Yelp" Award. Yelp gives this award out twice a year to businesses  who receive high ratings and positive feedback throughout the year.
What are people saying about us? Stuff like…
"Austin Simply Fit is the bomb!" and "There is so much that I love about this gym, but the best part is the feeling of community that Mark sets in the gym."
One gal said "David at Austin Simply Fit made my pants fall off!" (She was referring to her weight loss. Get your mind out of the gutter!)
And if that were not all, we also received the Best of 2015 Thumbtack award because all of our great customer reviews.

So what does this all mean. It means we owe you, our clients and friends, a big THANK YOU! Thank you for taking the time out of your busy day to jump online and share your thoughts on Yelp about Austin Simply Fit. Without your support and kind words we would not be growing as fast as we are and changing the lives of so many people everyday.
If you haven't shared your fitness success story online yet, we encourage you to do so here on Yelp and here on Thumbtack. But don't do it for us. We love awards and recognition but that's not what gets us going every morning. When you share your success online, it inspires others to do the same. And that's inspiring to us!