Athlete of the Month
CHELSEA + BRIAN ANDRADE: ASF SOUTH ATHLETES OF THE MONTH – OCTOBER 2018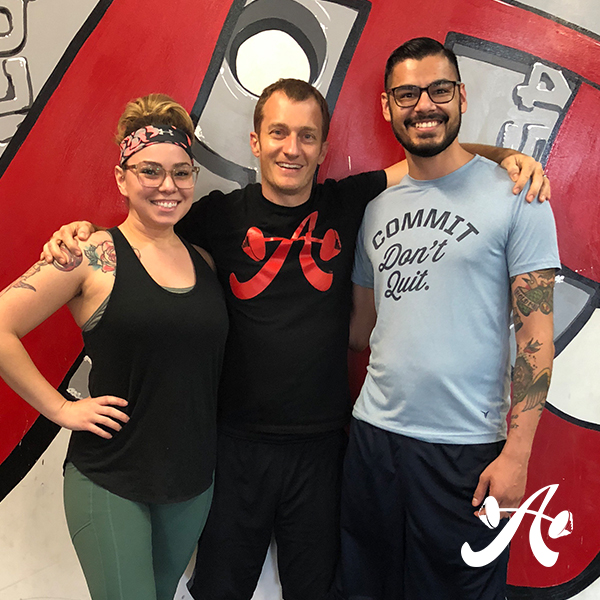 Chelsea and Brian have been training with Coach Sean for about 10 months now. In that time we've seen their strength, conditioning, and confidence increase dramatically. They always give 100 percent and are not afraid to test and push their limits during workouts and training sessions. Recently, Chelsea bench pressed 100 pounds for the first time ever and Brian made a breakthrough on his deadlift technique, crushing his previous best lift by 35 pounds with energy left to spare. They have also been focusing on their nutrition outside the gym, which has resulted in noticeable body composition changes for both of them! We're excited for their results and the progress they will continue to make in the future! Read below to learn more about their ASF experience…
ASF: How old are you?
CHELSEA: Turning 30 at the end of the month
BRIAN: 30 years old
ASF: What do you do for work/ in your professional life?
C: Office Manager at a software company.
B: I am a Product Manager at WP Engine
ASF: How long have you been working out at ASF?
C: It will be one year next month.
B: Since November of 2017
ASF: Why did you decide to join ASF?
C: Wanted to get strong and challenge myself.
B: I wanted the personal trainer experience but I wasn't satisfied with the options available at the big box gyms.
ASF: What were your goals when you started?
C: I want squat my husband (with him on my shoulders)
B: I wanted to bench my body weight, and leg press 300lbs
ASF: How close are you to meeting them?
C: I think I'm almost ready haha hopefully I don't drop him.
B: Getting close on the bench, I'm about 30 lbs away; for the leg press I'm already doing 325!
ASF: Why do you like working out with Sean?
C: He is a calming motivator, I doubt myself sometimes but Sean will just say "Yeah let's add 10 more" to whatever I'm doing and I get a rush crushing it.
B: Sean knows how to push us out of our comfort zone without letting us go too far and overdoing it
ASF:What changes have you noticed in your body, mind, spirit since starting at ASF?
B: I've definitely noticed that I feel stronger overall, more in control of my body than I was before.
ASF: What is it about Sean/ASF that keeps you coming back?
C: I'm never been this motivated or dedicated to any exercise so it surprised me how much I enjoy lifting. I love hitting a new PR or just casually showing off in my daily life (lifting kegs by myself at work) lol.
B: The results are the biggest thing that keep me coming back, I feel as fit as I was back when I was in the Air Force
ASF: Any surprises since starting at ASF?
B: I was surprised by how much I enjoy it, I usually don't like working out but ASF has given me a new appreciation for fitness.
ASF: What are your goals & plans for the future at ASF?
C: I want to compete this upcoming year for deadlift, details undecided.
B: I'd like to do a [powerlifting] competition at some point
ASF: Any advice you'd share with a newcomer to ASF?
C: Nothing will change for you until your mindset does. Keep coming to every session and give it your all, you will see results sooner than you think!
B: Be patient and stick with it.