Blog
Athletes lift 11,000+ pounds, break records, win big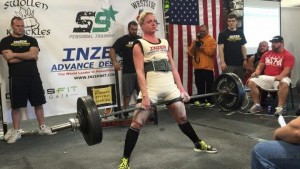 Austin Simply Fit athletes crushed three meets in three cities over the course of three days.
Ten of our powerlifters lifted a combined total of 11,282 pounds at three powerlifting meets held throughout the country earlier this month. Our team tackled the AAPF National Championships in Chicago, Illinois, the SPF Women's ProAM in Cincinnati, Ohio and the APF Texas State Meet in Dublin, Texas April 10-12.
Participating in the meets were Krista Bergeron (AAPF), Hayden Baillio (AAPF), Dwayne Levels (AAPF), Chantel Soirez (AAPF), Robyn Pettinger (AAPF), Franki Spell (AAPF), Dana Rygwelski (SPF), Bonnie Thomas (SPF), Jeremy Schraw (APF), Eric Nayden (APF) and Bobby Burns (APF).
"Our team did more than represent," said Dwayne Levels.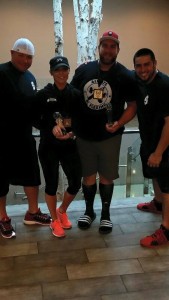 "It was more like a takeover.  No record was safe!" In addition to breaking 4 world records, 8 American World Records and 22 State Records, Krista Bergeron and Hayden Baillio won overall best female and male lifter at the AAPF National Championships in Chicago.
"If I could sum up this meet in one word it would be JOY," said lifter and Austin Simply Fit Co-owner Krista Bergeron. "Competing in the AAPF Nationals was an amazing experience that I am so grateful to have shared with the people that were there." Bergeron lifted a combined World Record total of 760 pounds in her squat, bench and deadlift.  Baillio lifted a combined World Record total of 1,813 pounds.
Each of the athletes spent countless hours at Austin Simply Fit's three Central Texas locations preparing for the meets. Coaching each of the teams through the experience was Austin Simply Fit President, world class power lifter and expert fitness trainer Mark Rogers. "It's amazing to see our athletes breaking, not only their own personal records, but the records of athletes across the country," Rogers said.  "It's a testament to their strength, perseverance and the training methods which we are constantly working to perfect at Austin Simply Fit."
Next up for some members of the team is the Austin Simply Fit Open at the Naturally Fit Games in Austin, Texas on June 6. Spectators are welcome.
—-
AAPF Nationals
Krista Bergeron
Open AND Submasters Division
OVERALL BEST FEMALE LIFTER
Squat 264 — World Record
Bench 148 — American Record
Deadlift 347 — World Record
Total 760 — World Record
Hayden Baillio
Open AND Junior Division
OVERALL BEST MALE LIFTER
Squat 611 — State Record
Bench 496 — Junior World Record
Deadlift 705 — State Record
Total 1813 — State Record
Dwayne Levels
Squat 556 — Submaster American Record
Bench 380 — Submaster American Record
Deadlift 600 — Submaster American Record
Total 1537 — Submaster American Record
Chantel Soirez
Squat 220 — Submaster State Record
Bench 126 — Submaster State Record
Deadlift 308 — Submaster State Record
Total 655 — Submaster State Record
Bench Only 121 — Submaster American Record
Deadlift Only 330—  Submaster American Record
Robyn Pettinger
Squat 214 — Open and Submaster State Record
Bench 126 — Open and Submaster State Record
Deadlift  347 — Open and Submaster State Record
Total- 688 Open and Submaster State Record
Franki Spell
Squat 253 —  Submaster State Record
Bench 187 — Submaster American Record
Deadlift 363 — Open and Sub State Record
Total 804 — Open and Submaster State Record
SPF Women's ProAM
Dana Rygwelski
Squat 515 — State Record
Bench 175 — State Record
Deadlift 425 — State Record
Total  1115 — State Record
Bonnie Thomas
Squat 375 — State Record
Bench Press 175 — State Record
Deadlift 380 — State Record
Total 930 — State Record
APF Texas State Meet
Jeremy Schraw
Squat 760 — Largest squat of the meet
Bench 369
Deadlift 655
Total 1785
Bobby Burns
Squat 369
Bench 226
Deadlift 600
Total 1195