Athlete of the Month
CLIENT HIGHLIGHTS | APRIL 2021
In just a few months working with their ASF trainers, these athletes have proven their dedication and dramatically increased their strength and abilities. They have overcome physical challenges and prioritized their fitness, which has yielded great results, with so much more on the horizon!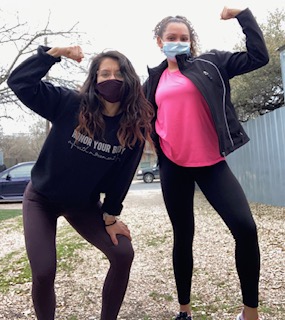 ASF SOUTH: MADYSON BINGHAM
From Madyson's trainer, Kristal Espitia:
Although we have only worked together for a few months, Madyson Bingham never ceases to amaze me with her effort and dedication to her health in and out of the gym. Every session, every week, Madyson shows up ready to put in the work, even if she isn't completely feeling it. During our sessions, Madyson is focused and willing to push herself to reach the next level. On the rare occasion that we need to cancel or reschedule our session, she stays accountable by doing a "homework" workout and checking in with me afterwards.
Madyson is Athlete of the Month because she challenges herself and expands her limits every workout. I am so proud of the dedication Madyson has demonstrated in the short time we have been working together, and I cannot wait to watch her continue to accomplish her goals.
ASF CENTRAL: SARAH SKEPS
From Sarah's trainer, Nick Adams:
Sarah had back surgery last May and couldn't even walk after it. Not even a year later, she's back to biking around Austin when she's not at work, and within the past two months working with me here at Austin Simply Fit, her strength has continued to grow.
She's able to do over 400 pounds on the hip press, do barbell squats, and she has zero limitations in the gym now. We've worked on rehabbing her back and the most exciting result is that she's able to do all of these incredible things pain free.