Blog
COMMUNITY UPDATE, MARCH 2020: COVID-19
Austin Simply Fit Community:
Austin Simply Fit's approach to the COVID-19 pandemic comes from a position of awareness and action. We will always place the health and safety of our community first. YOU are our WHY and we can't continue to do this work without you. 
As we shutdown our studios and facilities per the Executive Order of Governor Abbott, we are continuing our work to identify new and innovative ways to support our community.  It's important that we do our part to flatten the curve; through our efforts we have become aware of notable trends:
Community First:

The way we have seen our friends and clients rally around each other is what being part of a creative,

Krista helping her clients stay fit and get in touch with mother nature!

strong, and heart-centered community is all about. From understanding our schedule changes, to taking sessions outside and online – you have adapted with us and for that we are grateful.

Technology Matters: Because of technology a lot of us can maintain normalcy in our lives. We work from the home office,but we still connect through our devices and the Internet – hosting virtual happy hours, personal training sessions, and "vent sessions" to help us share our experiences with each other online. Technology will help us connect as we practice social distancing; technology will help us remain human during this time.
Take Care of Yourself: Now is the time to hold steadfast to the progress you've made to date and the vision of who you will become as you achieve your goals. Continuing your personal training will help you relieve stress and anxiety, support your immune system, and turn any extra calories you consume being home more into energy. Continue to invest in yourself – you won't regret it.
These three trends inspired us. While we must limit training inside ASF studios, we can (and will!) use technology to help honor your commitments to yourselves and bring our community together.
Through this pandemic, Austin Simply Fit will continue to offer in-person sessions outdoors at local parks. We also have online training sessions available that accommodate each individual's unique schedules, hygiene requirements, and personal goals. Ask any ASF trainer how to connect online or contact us directly.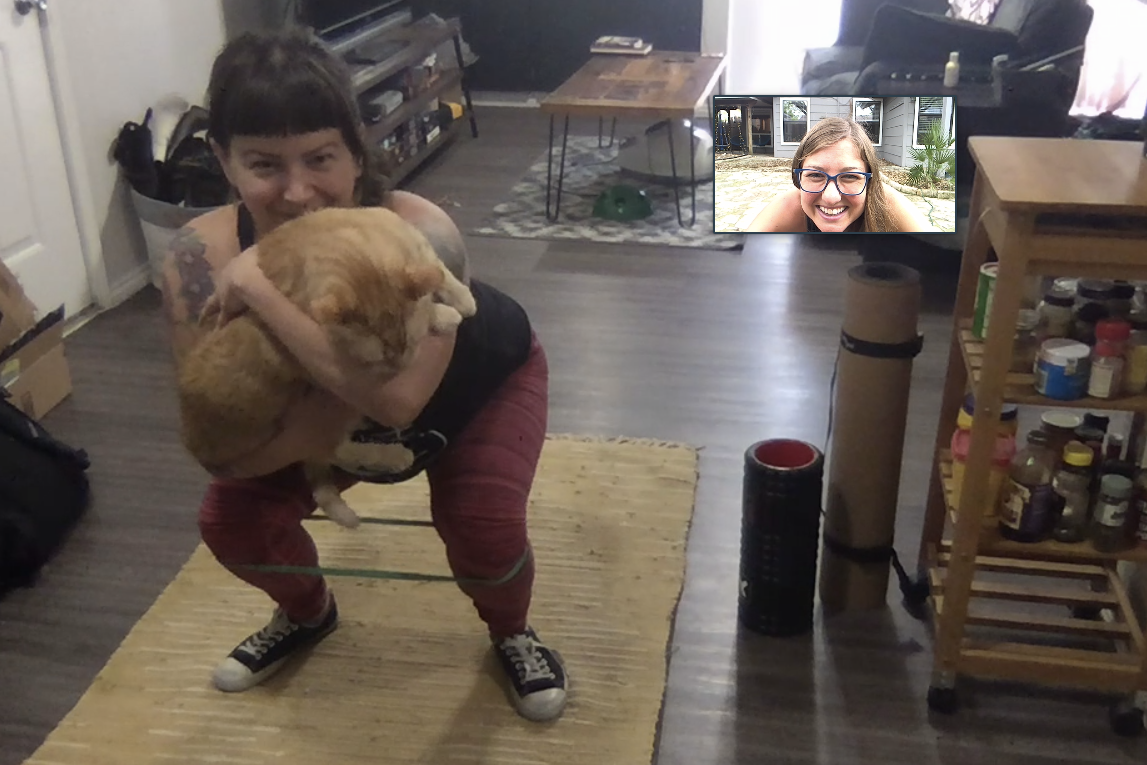 This shift is a temporary solution that will allow the ASF team to serve our community when you need us most. While we are bummed to close our doors at midnight on March 20, 2020, we are excited to give our clients and athletes the opportunity to explore new workouts using only bodyweight, personal equipment, or household items! (This can get fun!) And if you need home gym equipment check out our quarantine fitness kit on Amazon. 
We believe these solutions will unlock a safe and healthy future for our community so that we can all join together again in person at the end of the COVID-19 historical event.
With over a decade of experience, Austin Simply Fit is uniquely poised to help you grow when there isn't much certainty in the world, and that is what we plan to do.
All our love,
Austin Simply Fit
Mark Rogers | Krista Bergeron | John De La Paz