Blog
At Home Starbucks-like "Medicine Ball"
Recipe created by Amanda Bode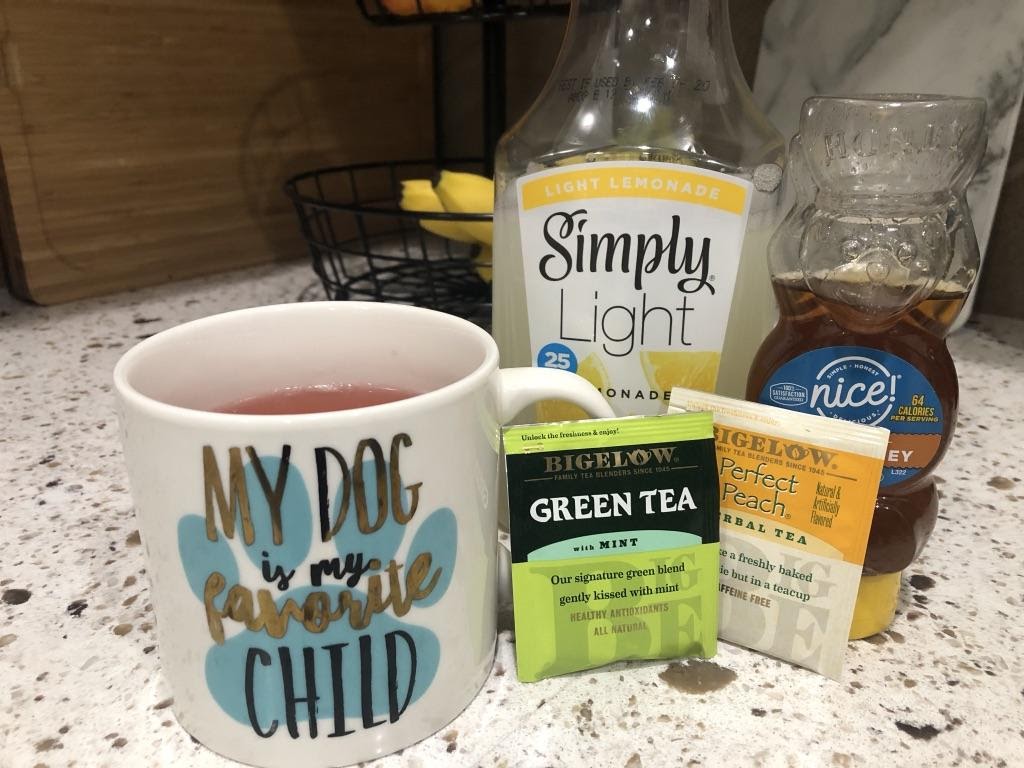 Recently, I've seen a bunch of people on my social medias raving about the Starbucks Medicine Ball drink. I'm a lover of all warm drinks so my interest was peaked. 
After a little research, I found that a customer actually concocted this tea drink and it was previously on the Starbuck secret menu, but because of the popularity it had, the company made it an official drink – Honey Citrus Mint Tea. When I ordered, I didn't want to have all the sugars that are in the original drink (30g in a grande!!), so I got "light" lemonade and half the honey from the original recipe. 
Call me basic, but I liked it. I really liked it. But I didn't like that I had to pay $4 and have unnecessary sugars to enjoy it, so I was able to figure out the approximate original recipe for it. ½ steeped lemonade, ½ steeped water, with a Teavana Peace Tranquility tea bag and a Teavana Jade Green Tea bag with honey added.
Before diving into making the tea, let's talk about what makes this a "Medicine Ball". 
Peach tea has many vitamins – A, C, E, K and B as well as potassium, phosphorus, manganese and magnesium, these antioxidants help improve your immune system. 

EGCG

(Epigallocatechin Gallate) is one of the largest compounds in green tea, it has been studied to help prevent cell damage and to help treat diseases, which makes it one of the most beneficial aspects of green tea. 

Honey

contains a ton of disease-fighting antioxidants and vitamins, along with anti-bacterial and anti-viral properties, all of which help to boost your immune system and keep you healthy year-round. 
All of these factors combined with the tender warmth of the steeped lemonade and water mix make for a yummy drink of health!
So, for my ingredients, I went for the Bigelow brand of teas and got their peach tea and mint green tea, for about $3 for each 10-pack, if I liked my at home version, I'll splurge for the Teavana brand. I also got the Light Simply Lemonade and used the honey that I already had at home. I heated about 4oz of lemonade and 6oz water over the stove and poured that into a mug, added just a little honey and let the tea bags do their magic. 
I loved my at home version, and better yet, my husband loved it too. He even asked for me to make it again for him that same day. So, for anyone who needs a little immunity boost in the form of a hot soothing tea, this is a great option! I hope you all enjoy it as much as I do. Stay warm and stay healthy this winter season, ASF fam!