Athlete of the Month
CLIENT HIGHLIGHTS | SEPTEMBER 2019

ASF CENTRAL: Eddie "Chorizo Funk" Campos
Eddie is a long time ASF client who has continued to progress and excel over the years. He is forever a student, interested in the why and how for every movement. He is even referred to as "Extra Credit" by other clients who always see him putting in extra after our sessions regularly. Due to his consistency and work ethic in the gym, he continues to remain healthy, strong and steady breaking his own records!
Eddie trains with ASF co-owner Krista Bergeron.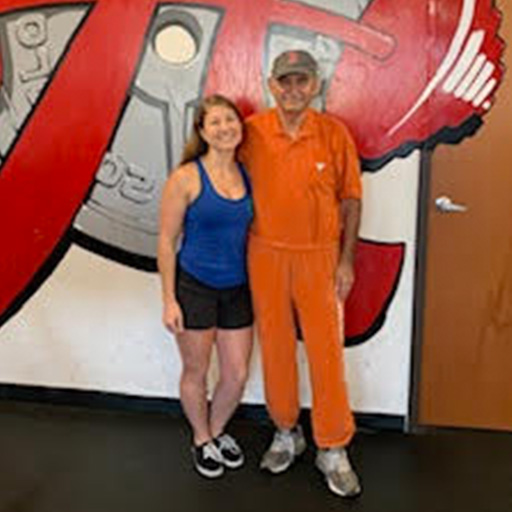 ASF SOUTH: Tony Deleon
Tony has been training with Coach Beckie for almost three years now. When his beloved wife passed, Tony knew that he had to take proactive steps to keep himself healthy, both physically and mentally. Tony knew Beckie was a trainer at ASF from the conversations they'd had as neighbors in Bouldin Creek, and so he quickly came in to see if training with her would be a good fit. Although the first year was painful in many ways, Tony persevered. He showed up every single week, without fail, and slowly he grew in strength as his heart began to heal.
In addition to working full time, Tony also takes weekly yoga and golf lessons to stay healthy, busy and productive. His commitment is obvious – this guy is seriously fit! In all these years, the only time Tony misses a session is when he is busy traveling the world! He felt strong climbing mountains in Greece at New Years, has hiked in Colorado, partied in Miami and NYC, is currently galavanting in Russia, and plans to travel elsewhere in Europe before the end of the year.
When he's in the gym, Tony keeps us all laughing, joking and encouraging fellow clients and trainers while always working hard. I absolutely love working with Tony and we can't wait to talk him into doing a powerlifting meet someday