Blog
RECIPE: SHREDDED GREEN CHILI CHICKEN
SHREDDED GREEN CHILI CHICKEN 
For those of you who have literally never cooked chicken in your life, go buy a crockpot, NOW. I cannot express how easy this is to make. Not only that, but it is DELICIOUS. You can use it to make tacos (wrapped in lettuce, of course), taco salads, sprinkle it on homemade sweet potato chips for a healthy alternative to nachos, or just eat it straight out the crockpot, if that's your style. Two ingredients, three steps. You're welcome.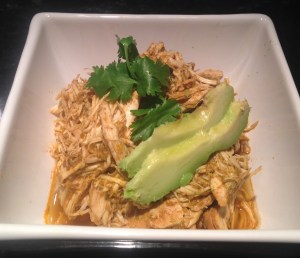 Makes 4 servings
Ingredients:
4 Boneless Skinless Chicken Breasts (about 6oz each)

1 16oz jar of salsa verde (or roasted salsa, or whatever kind of salsa you prefer, really, macros won't change)

crockpot

optional seasonings: cumin, paprika, chili powder, garlic powder, tumeric, onion powder
Directions:
Cut off any visible fat on chicken breasts.

Place chicken and salsa into the crockpot and cook on high for 4.5 hours. If you want more flavor,  feel free to add in any spices you'd like (see above ingredients for suggestions).

After cooking, shred chicken with two forks, and voila!

Serve over lettuce, tomato, bell peppers and avocado for a quick and easy taco salad or just eat with a fork and some more salsa!
MACROS for 1 serving ( 1 cup of chicken):
188 calories, 32 g protein, 2.8 g carbs, 2 g fat