Athlete of the Month
Athletes of the Month – April 2018
ASF LEANDER: SARAH WARLAND
Sarah Warland works with Coach Mike at our Leander studio where she is using her fitness and strength training routine to get her life to a healthy standard that leaves her feeling invigorated and strong. When we asked Mike why he nominated Sarah for this honor, he said, "Sarah has committed herself to getting back into shape and getting stronger. She had a surgery on a herniated disc a couple of years ago and allowed that to derail her fitness from a time when she was a competitive rower. Sarah shows up, puts in the work, and has a great attitude."
Sarah shared some stories from her ASF experience with us. Read them here.
ASF CENTRAL: JAMES RENO and BRYAN MARKER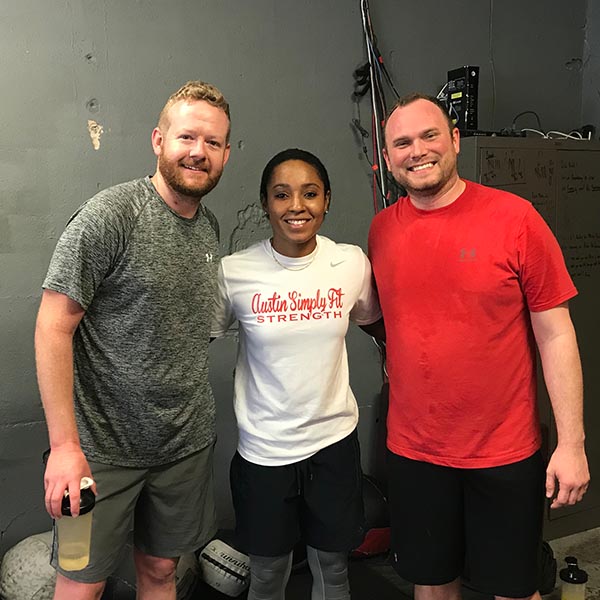 Coach Sierra kept her nomination for James and Bryan short and sweet, "These two are fun and make mornings enjoyable. I'm glad to be working with them."
Read about their ASF experience here.
ASF SOUTH: AMBER IRVING

Amber Irving is a fan-favorite in the Austin Simply Fit South Lamar location. We asked Coach Amanda to tell us why she chose Amber for the Athlete of the Month honor, she said, "Amber is killing in and out of the gym in so many ways. When she first came to me, she had trouble using her abs without her psoas and hip flexors take over as well as chronic foot pain that a previous podiatrist said was so bad that she couldn't be barefoot or exercise without orthopedic shoes. Flash forward to now and she's able to lots of ab movements, is actively working with a PT to work up to barefoot movements and even running, and we are working on all three powerlifts so that she can do a competition later this year."
Amber told us about her ASF experience, read it here!